PocketStrings™ - Pocket Guitar Chord Trainer - Practice guitar wherever you want!
Do you always find yourself strumming an imaginary guitar whenever you hear a song?
Or do you always want to practice your guitar skills but can't bring your guitar everywhere?

No worries! We made it a lot easier for you! This PocketStrings™ - Pocket Guitar Chord Trainer provides you the genuine guitar playing experience you need!

Practice guitar is now easier than ever – Designed to mimic a real guitar to help you practice your chord skills fast and easy.
Built with real mahogany effect fretboard, with 6 frets. An ideal trainer for practicing scales, chords, and riffs, building the finger memory and also toughening up the fingers.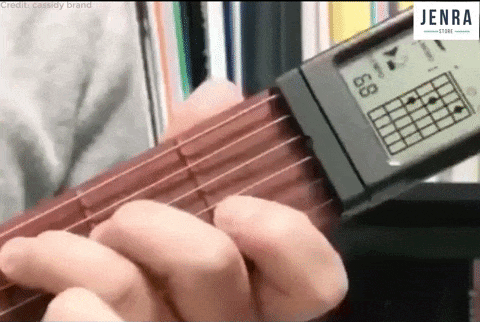 Why bringing the huge guitar when you can carry this compact device to keep up your daily practice, just the right size to store in your backpack or pouch and allows you to practice on the bus, in a taxi, in your lunch break at work - virtually anywhere!

Worry when playing guitar when just a beginner? Don't worry because PocketStrings™ comes with a CHORD ASSISTANT SCREEN – a rotatable built-in screen which is a great guide to help beginners or students develop muscle memory for chords and is a perfect tool for finger placement exercise.

Perfect guitar copy – Equipped with GENUINE STEEL STRINGS to give you the feel of the real guitar and to enable guitar players to build calluses. Steel strings can be removed, replaced, loosened or tightened as required.

Practice silently then rock loudly with the PocketStrings™ - Pocket Guitar Chord Trainer now! Improving guitar skills made a lot easier for you!

How To Use:
1: Press A for 2 seconds to open, and another 2 seconds to shut down
2: Press B for 2 seconds, you can switch between Chord table mode and Circulation mode.
3: When it is in Chord table mode, area display of chord name and display of fingering chart in light, area display of metronome and chords number in darkness.
4: When it is in circulation mode, Area display of chord name and display of fingering chart all in light.

Specifications:
✓ Size Closed Approx: 11.2 inches
✓ Size Open Approx: 19 inches
✓ Weight: 9oz


Package Includes:

1x PocketStrings™ - Pocket Guitar Chord Trainer


 
A Few Of The Reasons You Should Buy From Us:
100% Secure Online Ordering
Lowest & Honest Price Online
Special sales for our fabulous customers daily
Safe & Secure checkout & shipment. 
Knowledgeable And Professional Customer Support
Thousands Of Satisfied Customers & Everyone Who Used Our Products Comes Back For More And You Will Happily Too!
100% Satisfaction Money Back Guarantee.
Our Slogan: Your Creative Experience. We Truly Care ! 
We have created a user friendly customer centered online shopping experience that has us head and shoulders above the competition.Take time and shop with us today. We are positive you will see the difference in your experience from our high quality brands to our exceptional online customer service.
We Offer The Fastest Shipping Possible & Hassle Free Returns!
Shipping Information:
FREE Insured Shipping for all orders over $50
Most US based orders are shipped directly from our warehouse within 24-72 hours for your convenience and maximum efficiency.
The only downside of our store is our products is so 🔥HOT🔥 And normally out of stock in US warehouse because customer normally buy at least 3-10 items due to the uniqueness and limited edition. 

Don't worry, we have backup storage in Asia and will ship your product directly from our warehouse with Insured Tracking Numbers so you can easily track it and your orders will arrive within 2 to 3 weeks (USA). We understand everyone needs safety & security when shopping on site. 
For worldwide (non-US) customer. Your product will also arrived within 2-5 weeks with Insured Tracking Numbers. 
Returns Information:
We offer a 100% Satisfaction guarantee or your money back if our product is missing or damaged. Please contact us at support@jenrastore.com for return requests.