2019 DIY Handmade Ukulele Kit
🔥MASSIVE SALE - 70% OFF Farther's day 
YOU SAVED $85+ TODAY   
Fun facts:
89% customers bought 2+ ukulele for their kids & friends. 
5% customers bought 10-30+ ukulele for their musical class and activities. Amazing, isn't? 
We understand you'd love to gift your friends or family members as well this cute & creative ukulele kit so after we did customer we decided to we offer additional 5% discount when you purchase 2+ items, 10% for 3+  <3!
In Stock  

Not sold in stores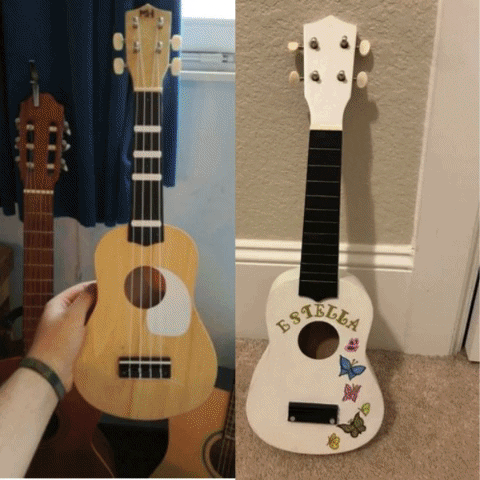 Check out our customer finished DIY ukulele 😍👍
Build and decorate your very own ukulele with the DIY Handmade Ukulele Kit. This do-it-yourself set includes all of the components necessary to assemble a fully functional uke (that's street slang for ukulele). Every parts was handmade by our craftiest & artists around the globe (We ship worldwide). We're so proud we're doing the project to community. 
With the help of a bit of wood glue, a screwdriver, and a drill, you'll be strumming away in a matter of hours. This is an awesome project for kids to do with their parents, as the completed instrument is compact, easy to learn, and fun to play. Also suitable as a gift for those love DIY & Music enthusiasts! 
The unfinished wood allows you to decorate your ukulele in any number of fun ways.
For people who love doing DIY projects. Perfect gifts for kids 
Features & specs:
- Great family activity: Children and parents works together to improve intimate relationships -  excellent parent-children interaction activity. 
- Handmade gift: Simple and fun to build. Perfect as a gift.
- Enhance Creativity: Artistic activities can provide children or adult an interesting and inspirational experience to understand the natural world and their own exploration.
- Easy to assemble: Perfect for DIY Beginner & Music Fan
Material: Basswood Body + Plastic + Metal + Ukulele Nylon Strings
Size: 21 Inches
Package include:

1x ALL DIY ukulele components 
1x Screwdriver
1x Glue
1x Painting Kit for your ukulele (FREE!)
Frequently Asked Questions:
Question: How hard is it to build?
It really isn't too difficult, it should only take about 3 hours total.

Question: What tools do I need to build it?
You'll need a Phillips screwdriver, some sandpaper That's it!

Question: Does it come with any songs?
It doesn't come with any songs but there are hundreds of instructional videos on YouTube to help you get started

Question: Why don't I just buy one that is already made?
That will take the fun out of it because building stuff is fun! Being able to personalize the design of your uke along with simply knowing that you put it together makes it special. 
Our 2019 DIY Handmade Ukulele Kit now includes Painting Kit FREE for you! 
so you can decorate and assemble your kit instantly! 
THIS PRODUCT IS A LIMITED

 

PRODUCTION

 

AND IS NOT AVAILABLE IN STORES. 
A Few Of The Reasons You Should Buy From Us:
100% Secure Online Ordering
Lowest & Honest Price Online
Special sales for our fabulous customers daily
Safe & Secure checkout & shipment. 
Knowledgeable And Professional Customer Support
Thousands Of Satisfied Customers & Everyone Who Used Our Products Comes Back For More And You Will Happily Too!
100% Satisfaction Money Back Guarantee.
Our Slogan: Your Creative Experience. We Truly Care ! 
We have created a user friendly customer centered online shopping experience that has us head and shoulders above the competition.Take time and shop with us today. We are positive you will see the difference in your experience from our high quality brands to our exceptional online customer service.
We Offer The Fastest Shipping Possible & Hassle Free Returns!
Shipping Information:
FREE Insured Shipping for all orders over $50
Most US based orders are shipped directly from our warehouse within 24-72 hours for your convenience and maximum efficiency.
The only downside of our store is our products is so 🔥HOT🔥 And normally out of stock in US warehouse because customer normally buy at least 3-10 items due to the uniqueness and limited edition. 

Don't worry, we have backup storage in Asia and will ship your product directly from our warehouse with Insured Tracking Numbers so you can easily track it and your orders will arrive within 2 to 3 weeks (USA). We understand everyone needs safety & security when shopping on site. 
For worldwide (non-US) customer. Your product will also arrived within 2-5 weeks with Insured Tracking Numbers. 
Returns Information:
We offer a 100% Satisfaction guarantee or your money back if our product is missing or damaged. Please contact us at support@jenrastore.com for return requests.